Keep Your Data Secure with a Handy Swivel Cap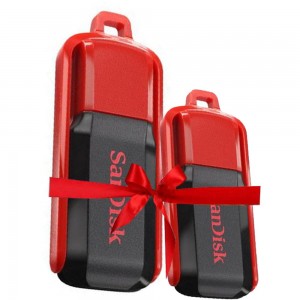 The Cruzer Switch USB Flash Drive makes it easier than ever to back up, transport, and share your files. This USB drive keeps your photos, videos, music, and personal data secure with its protective cap and SanDisk's exclusive password-protection software.
Flip-top design with protective cap
Drives up to 32GB ** can hold your most important data
SanDisk SecureAccess™ software provides password protection**
Includes up to 2GB of online backup** with YuuWaa™
Keychain loop for easy carrying
Cruzer Switch™ USB Flash Drive
Selected: 32GB  | Item # SDCZ52-032G
Simple Flip-Top Design Protects USB Connector
With its unique flip-top design, the Cruzer Switch USB flash drive is as portable as it is secure. The drive's cap pivots and secures firmly, protecting the USB connector from damage when not in use. The cap has a convenient keychain loop that makes it easy to carry wherever you go.
High-Capacity Drive Stores Your Essential Files
Designed by the company that pioneered the USB flash drive category, the Cruzer Switch USB flash drive packs ample storage space in a compact form. Available in capacities up to 32GB, this flash drive can accommodate photos, songs, and all of your personal data.
Simple, Drag-and-Drop File Loading
Adding photos, music, and other files to the Cruzer Switch USB flash drive is easy: simply plug the drive into your computer's USB port and drag your files into the flash drive's folder. No additional drivers or software are necessary, so you can start storing, transporting, and sharing your data immediately.
SanDisk SecureAccess Software Protects Files from Unauthorized Access
With SanDisk SecureAccess, included with each Cruzer Switch USB flash drive, you can create a password-protected private folder on your USB drive. The password protection uses 128-bit AES encryption, so you'll be able to share your USB drive without compromising your private files.
Includes 2GB of Cloud Storage offered by YuuWaa
The Cruzer Switch USB flash drive comes with free access to YuuWaa, a cloud storage service provider. You'll receive 2GB of online storage space. With the user-friendly drag-and-drop interface, it's easy to transfer your important files from your drive to a secure YuuWaa server.
Capacities 2GB, 4GB, 8GB, 16GB and 32GB
SanDisk SecureAccess software compatibility: Windows® XP, Windows Vista®, Windows 7, and Mac OS X v10.5+ (Mac software requires download, see the SanDisk SecureAccess page.)
USB port USB 2.0 port required for high-speed transfer
Warranty United States : 2-year limited warranty. All other regions: 5-year limited warranty. For more information, see the Warranty and User Guide page.
Product Numbers
| Americas | Europe/Asia-Pacific/Latin America/Middle East and Africa |
| --- | --- |
| SDCZ52-002G-A11 – 2GB | SDCZ52-002G-B35 – 2GB |
| SDCZ52-004G-A11 – 4GB | SDCZ52-004G-B35 – 4GB |
| SDCZ52-008G-A11 – 8GB | SDCZ52-008G-B35 – 8GB |
| SDCZ52-016G-A11 – 16GB | SDCZ52-016G-B35 – 16GB |
| SDCZ52-032G-A11 – 32GB | SDCZ52-032G-B35 – 32GB |
| Europe | Australia and New Zealand |
| SDCZ52-002G-B35S – 2GB | SDCZ52-002G-BQ35 – 2GB |
| SDCZ52-004G-B35S – 4GB | SDCZ52-004G-BQ35 – 4GB |
| SDCZ52-008G-B35S – 8GB | SDCZ52-008G-BQ35 – 8GB |
| SDCZ52-016G-B35S – 16GB | SDCZ52-016G-BQ35 – 16GB |
| SDCZ52-032G-B35S – 32GB | SDCZ52-032G-BQ35 – 32GB |